Anwyl Smokebeard is one of the merchants at the Marketplace recommended by Heroica. He is a blacksmith selling equipment and services related to them.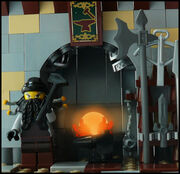 For reasons unknown to everyone but himself, Anwyl pretends to be a dwarf (just a tall individual), having even grown a beard so long that it often catches on fire when working at the forge (earning him his nickname). He claims to be the son of Hammar son of Forgin, of the Blackbeard Clan under the Mountains of Titaan, anda devout worshipper of Mythra. His inferior products reveal the sad truth, though. He has a secret affair with Elphaba the Witch.
Appearances
Edit
Ad blocker interference detected!
Wikia is a free-to-use site that makes money from advertising. We have a modified experience for viewers using ad blockers

Wikia is not accessible if you've made further modifications. Remove the custom ad blocker rule(s) and the page will load as expected.