Bellanotte Shadeaux is the twin sister of Nuitan, and the only child of Count Noctus Shadeaux who has inherited the disorder called Le Malheur. Since she is unable to go outside during daylight, she has been homeschooled for her entire life. She is fiercely devoted to her twin brother, and will do anything to keep him safe. She was even willing to marry Lyren Hinckwell so that he and her brother could be together, to which her father agreed to. Their engagement only lasted for a few hours, though, since a Wolfgang attack caused another rift between their families. Her biggest dream is not to be alone anymore.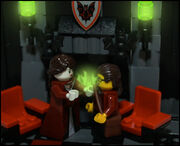 Bellanotte is also a great music afficionado, especially fond of the songs by Carly Swift, Eubric's newest starlet, even though she could only attend her late-night concerts. When his brother asked her to sing a song he had gotten from his lover, Bellanotte felt the piece was so beautiful that she passed it to Carly. This led to an unfortunate chain of events once the song gained popularity, for it was originally composed by Lyren's mother Laureline Hinckwell.
Through the investigations of a group of heroes of Heroica, Laureline found out that Lyren was still spending time with the Shadeaux children. But worse yet, Bellanotte's nosy werebat mentor Vesper overheard Bellanotte slipping information about Nuitan and Lyren's relationship to the heroes. The mentor immediately went to the count with this information. But would the efforts of both families enough to keep the lovers apart?
Appearances
Edit
Ad blocker interference detected!
Wikia is a free-to-use site that makes money from advertising. We have a modified experience for viewers using ad blockers

Wikia is not accessible if you've made further modifications. Remove the custom ad blocker rule(s) and the page will load as expected.