Bohring the Enlightened was the founder and first provost of the Academy of Enlightenment. Worried that none of his predecessors would be any good at their job, he lingered on at the school after his death as a ghost. He adviced the heroes of Heroica on couple occassions when they came to help out with the supernatural problems the institution was facing.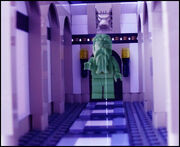 Appearances
Edit
Ad blocker interference detected!
Wikia is a free-to-use site that makes money from advertising. We have a modified experience for viewers using ad blockers

Wikia is not accessible if you've made further modifications. Remove the custom ad blocker rule(s) and the page will load as expected.