Cromeo Nightingale (played by Chromeknight) was a half-elven harlot who was a member of Heroica until the events of the Cruel Angel's Thesis. He did not survive.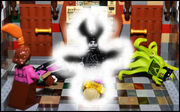 Being a half-elf in Eubric wasn't easy, since they don't really belong to any community. Because of that, Cromeo decided to open himself up to absolutely everyone, without discrimination. That was the way he survived. One of his "new-found friends" was Lothoros Eldar, a Veteran of Heroica. He took Cromeo under his wing and made him join the organization. However, a fateful journey to the Doomsayer's Island made him a Nephilim of the dark angel Lucifuge. Together with his quest-mates he set out to destroy Heroica – starting with the man that once meant so much to him.
Appearances
Edit
Ad blocker interference detected!
Wikia is a free-to-use site that makes money from advertising. We have a modified experience for viewers using ad blockers

Wikia is not accessible if you've made further modifications. Remove the custom ad blocker rule(s) and the page will load as expected.