Cynthia is a werelizard that lives in the Waltzing Dragon Inn. The werelizard was once a prominent performer on the stage but has since retired. While he was alive, Krook Hinckwell kept Cynthia company and the two were close friends and after his death, he willed her her room rent free. The werelizard keeps an extensive literature collection and has some of the rarest tomes in Eubric outside the library of Heroica. Cynthia is good friends with Teresa Finneldria and sometimes sponsors individuals through the Eubric Embassy.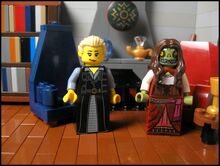 Appearances
Edit
Ad blocker interference detected!
Wikia is a free-to-use site that makes money from advertising. We have a modified experience for viewers using ad blockers

Wikia is not accessible if you've made further modifications. Remove the custom ad blocker rule(s) and the page will load as expected.