Dain Almight is a dwarven bombcrafter who met a party of heroes of Heroica at Port Taboo in Babeleth. The heroes hired him to demolish the Tower of Babel, a task which Dain accepted with trepid excitement. After the job was done, the heroes took him with them to Eubric, where he joined the Guild of Invision.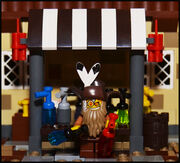 Dain eventually landed a job as a bomb seller at the Marketplace for the Guild, when Portia eagerly handing the dangerous merchandise over to him.
Appearances
Edit
Ad blocker interference detected!
Wikia is a free-to-use site that makes money from advertising. We have a modified experience for viewers using ad blockers

Wikia is not accessible if you've made further modifications. Remove the custom ad blocker rule(s) and the page will load as expected.