Elphaba the Witch hails from the Ozmath Marshlands in Babeleth, where she lives in a cottage with her mother, Sorceress Zelena and her younger, malfigured brother Jolly. The whole family suffers from a mutation that gives them a bright green skin, despite having no relations to the actual greenskins. This dates back to her ancestor being the infamous Green Witch. She also has a pet cat Beelzebub, who might or might not be a demon in disguise.
It is not often that Elphaba rolls to the Marketplace in Eubric on her horseless Magic Wagon to sell her enchanted wares, but when she does the whole town soon knows about it. She is loathed by most of the other merchants, but at least one of them has lost his heart to this exotic green-skinned witch.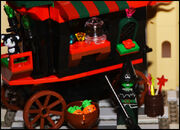 One can most likely meet the witch at the Marketplace near Samhain and Ostara, although after Baba set foot in Eubric, Elphaba stopped coming upon seeing a great threat in her. When Elphaba met a group of heroes from Heroica in Babeleth, she warned them of her suspicions that Baba was the mythical Eatress that consumes power from magic-users. She also helped Roland Emeraldo and Glimda LaRouge track down the murderer of her childhood friend Grimelda.
Appearances
Edit
Ad blocker interference detected!
Wikia is a free-to-use site that makes money from advertising. We have a modified experience for viewers using ad blockers

Wikia is not accessible if you've made further modifications. Remove the custom ad blocker rule(s) and the page will load as expected.