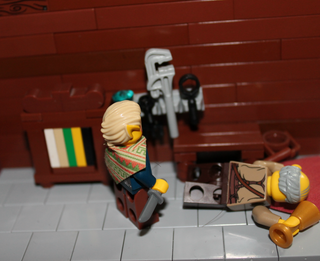 The Elven Assassin was an elf working in tandem with two others, who were after Bismark's papers. He possessed some knowledge of teleporation magic.
Battle Statistics
Edit
Quest#106
Edit
Drunk Undead Peasant
Level: 16
Health: 100/100
Special: Curse – All heroes gain a random negative effect.
Passive Special 1: Last Resort Escape - Upon reaching 0 health the Elven assassin teleports away.
Passive Special 2: Assassination - The elven assassin has a 1/6 chance to KO the hero who rolled damage.
Drops: Nothing.
As his bio lists him as Humanoid/Demon, he may have had Demon ancestry.
Ad blocker interference detected!
Wikia is a free-to-use site that makes money from advertising. We have a modified experience for viewers using ad blockers

Wikia is not accessible if you've made further modifications. Remove the custom ad blocker rule(s) and the page will load as expected.