Grimelda was the proprietress of the False Wizard tavern in Vega, the City of Sin. Elphaba the Witch was her childhood friend, and the brothel owner Glimda LaRouge her transgendered sibling. Mutated by the dark magic running rampant in Babeleth, Grimelda was born with the tail of a fox.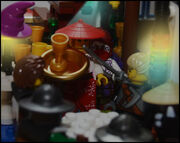 Grimelda got involved in an elaborate plot by the Wolfgang, unbeknownst to herself up until the assassin Detraehd Loc slit her throat. Her grieving friends swore to avenge her death.
Appearances
Edit
Ad blocker interference detected!
Wikia is a free-to-use site that makes money from advertising. We have a modified experience for viewers using ad blockers

Wikia is not accessible if you've made further modifications. Remove the custom ad blocker rule(s) and the page will load as expected.