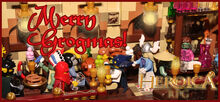 Grogmas is a yearly event celebrated by the heroes of Heroica. The PCs can suggest gifts to other PCs that they think are suitable. Every character then recieves one of the suggested items as a gift in the spirit of the event.
The event of 2015 was presented with the following introduction from Sandy:
"It was that time of the year again, when most of Eubric prepared to celebrate Grogmas, the festival of generosity and warmth in the middle of winter. It originated from Baltarok, out of all places, where there used to live a tribal chieftain called Grog the Red, who was renown for giving exuberant gifts to his tribe once a year. His life was cut short by a jealous rival, but his legacy lingered on. Orcish slaves spread the tradition all over northern Olegaia, and in the spirit of Father Grogmas, people started exchanging gifts with their nearest and dearest every year near the winter solstice. That was the case in Heroica, as well."
The rules for the Grogmas edition of 2015 was described as follows:
"~ All players can suggest gifts to give to their fellow player's characters. The gifts can be pre-existing items (like consumables or equipment), or something made up. Please think what would be fitting for the player character in question.

~ You can suggest gifts for multiple characters, but only one gift per player character. You naturally cannot suggest gifts for yourself, nor use this topic to ask others for something.

~ The best and the most fitting gifts will be selected by the Game Manager, so that everyone who got suggestions will get one gift. 

~ You have up until the 20th of December to send your suggestions. The chosen gifts will be revealed during the Grogmas holidays."
Ad blocker interference detected!
Wikia is a free-to-use site that makes money from advertising. We have a modified experience for viewers using ad blockers

Wikia is not accessible if you've made further modifications. Remove the custom ad blocker rule(s) and the page will load as expected.