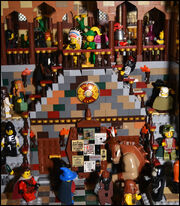 Heroica Hall is the building that acts as the headquarters for Heroica. The Veterans keep offices there. It also contains Scheherazade's saloon that offers free drinks and food to the members, and a vast library kept by Byblos. The heroes can train to upgrade their job class at the Training Room under the tutelage of the Copper Fox, and beneath the Hall lies an Arena where heroes can duel each other.
Ad blocker interference detected!
Wikia is a free-to-use site that makes money from advertising. We have a modified experience for viewers using ad blockers

Wikia is not accessible if you've made further modifications. Remove the custom ad blocker rule(s) and the page will load as expected.