Lee Long, a warrior monk from Xu, came to owe his life to the family of Ji Pei when they saved him from execution sentenced to him because of insolent behaviour against an aoi. Instead, he was sent into exile, never permitted to return to Xu again. Shanxian Ji Pei, the matriarch of the family, helped him again by taking him with them to Eubric to act as her personal bodyguard after the death of her husband. He swore never to leave her side, and it is rumoured that the two even share a bed together. He acts as a father figure to Shanxian's hot-headed son Jun. When Jun was thought to have perished in Xu, Lee left Shanxian to exact revenge upon the killers on her behalf. Despite recovering Jun alive, Lee came to regret his decision bitterly as Shanxian was impaired in an assassination attempt while he was gone.
As a Chi Monk, Lee trusts his magic-imbued fists in battle.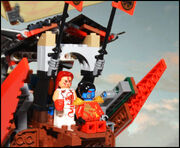 Appearances
Edit
Ad blocker interference detected!
Wikia is a free-to-use site that makes money from advertising. We have a modified experience for viewers using ad blockers

Wikia is not accessible if you've made further modifications. Remove the custom ad blocker rule(s) and the page will load as expected.