Magwin Rumpleddown was a Werevulture junior necromancer assigned to the Eubric district Plane of Holding. During an undead insurrection, Magwin threatened the librarian, Aroosie, before being stopped by heroes from Heroica who had answered the plane's distress message. The heroes eventually sided with the rebellion and Magwin was killed in the resulting battle. Although a relatively new necromancer, Magwin was indeed talented but at heart a coward always looking out for her own skin.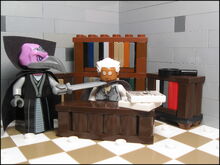 Appearances
Edit
Ad blocker interference detected!
Wikia is a free-to-use site that makes money from advertising. We have a modified experience for viewers using ad blockers

Wikia is not accessible if you've made further modifications. Remove the custom ad blocker rule(s) and the page will load as expected.