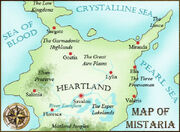 Mistaria is a vast continent south of the Free Islands and the Low Kingdoms. The northern parts are fairly civilized, containing the trading cities of Miranda, Elia and Valeria, collectively known as the Three Freewomen, as well as the lush farmland kingdom of Heartland. There is also a large forest to the west where Wood Elves keep a preserve.
Most of the continent to the south is taken up by the wild Mistland Jungles, where civilization has yet to reach. The proud Metasimians live there, in balance with nature.
Ad blocker interference detected!
Wikia is a free-to-use site that makes money from advertising. We have a modified experience for viewers using ad blockers

Wikia is not accessible if you've made further modifications. Remove the custom ad blocker rule(s) and the page will load as expected.