Commodore Obero Bonaparte is the younger brother of the late Admiral Leo Bonaparte, the father of Nemo and Reno. He was feared among the pirates of Crystalline Sea, and the black sails on his ship gave him the monicker of "Blackgull", which he carries proudly. After his brother's death in sea battle, he was there to guide Nemo into following his father to the position of an admiral.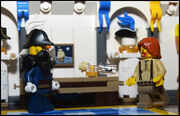 Blackgull eventually retired to the Eversummer Islands, where he got acquainted with the culture of the Sun Elves and met his wife Xsenna. After a decade of retirement, he was summoned back to Eubric Freeport to run things while his nephew Nemo was recovering from the death of his twin. Some of the officers at Fort Bonaparte had began to spread thoughts of taking the power away from the Bonapartes, and Blackgull started an inquisition to weed out the insurgents. The heroes of Heroica he sent to investigate the prime suspects found a traitor in Commander Meliodoul Fogfarer, but whether that was enough to quench the flames of rebellion remained to be seen.
Appearances
Edit
Ad blocker interference detected!
Wikia is a free-to-use site that makes money from advertising. We have a modified experience for viewers using ad blockers

Wikia is not accessible if you've made further modifications. Remove the custom ad blocker rule(s) and the page will load as expected.