Guard Captain Raijin was the adamant Aoi commander of the Azure Guard whose task was to keep the Council of the Blue Hand safe. She gave her life trying to defend the council in a sudden revolution.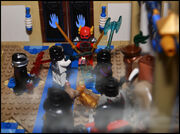 Like many other guards, Raijin was also a trained Tao Warrior, wielding two katanas at the same time.
Appearances
Edit
Ad blocker interference detected!
Wikia is a free-to-use site that makes money from advertising. We have a modified experience for viewers using ad blockers

Wikia is not accessible if you've made further modifications. Remove the custom ad blocker rule(s) and the page will load as expected.