Rastaban was a great red dragon that Baba sent after heroes of Heroica who tried to find a way to kill her in Spesialia. Rastaban set an enormous forest fire to distract the heroes, but was quickly vanquished by them.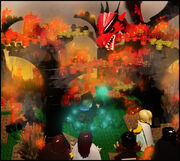 Appearances
Edit
Battle Statistics
Edit
Rastaban, the Brimstone Dragon
*Absorbs Fire* *Immune to sealed, confused, hexed, petrified, doomed and sudden death*
Level: 52
Health: 1531/1531
Special I: Countdown (5/5) – The Brimstone Dragon takes a deep breath, preparing Armageddon Flare. It takes 5 deep breaths for the special attack to be ready.
Special II: Armageddon Flare – Causes 999 fire-elemental damage to all opponents. Used after the Countdown hits zero.
Drops: Brimstone Armor (SP:6, absorbs fire damage; causes fire damage equal to wearer's defense to those that hit the wearer with normal attacks; suitable to barbarians, knights, dragoons, skirmishers, regulators and vindicators; bodywear), 5 Dragon Scales (Grants lucky- and blessed-effects when consumed)
Note: The Countdown will automatically decrease by 1 every round.
Ad blocker interference detected!
Wikia is a free-to-use site that makes money from advertising. We have a modified experience for viewers using ad blockers

Wikia is not accessible if you've made further modifications. Remove the custom ad blocker rule(s) and the page will load as expected.