Sed is the laid-back owner of the Amenra Beach Resort by the Salmandan seashore. A lot of famous people come to his establishment to relax away from the public eye, so Sed is especially careful about the privacy of his resort.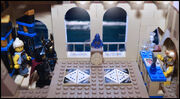 Appearances
Edit
Ad blocker interference detected!
Wikia is a free-to-use site that makes money from advertising. We have a modified experience for viewers using ad blockers

Wikia is not accessible if you've made further modifications. Remove the custom ad blocker rule(s) and the page will load as expected.