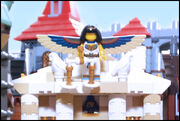 In the middle of the poorest district of Eubric Freeport, the Hovels, lies a shrine dedicated to the goddess of fate, Fabula Sibylla. It is there that the Oracle gives consultation to those who seek the wisdom of the goddess of prophecies. The Oracle is aided by some priestesses and altar girls, among them Sküld Verdandi. Ella Septrine, the princess of Dastan, once trained there as well.
Ad blocker interference detected!
Wikia is a free-to-use site that makes money from advertising. We have a modified experience for viewers using ad blockers

Wikia is not accessible if you've made further modifications. Remove the custom ad blocker rule(s) and the page will load as expected.