Spinnestus is a priest of Mercutio living in Eubric's Cathedral of Commerce. The priest is in charge of the bank rolls for the cathedral and is somewhat introverted. Spending most of his time cooped up in his office, Spinnestus isn't used to a lot of social interaction and often comes across as extremely shy or paranoid. The priest hired heroes from Heroica to return a gold lined cloak that had been mistakenly swapped with his own.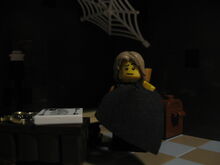 Appearances
Edit
Ad blocker interference detected!
Wikia is a free-to-use site that makes money from advertising. We have a modified experience for viewers using ad blockers

Wikia is not accessible if you've made further modifications. Remove the custom ad blocker rule(s) and the page will load as expected.