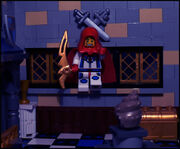 "The Crimson Reaper" was a red-clad elven assassin was hired by Violetta the Cat Burglar to distract a group of heroes from Heroica while she stole a precious heirloom from the Hinckwells. The rookie red assassin was all talk and no talent, and was swiftly defeated by the heroes.
Appearances
Edit
Battle Statistics
Edit
The Crimson Reaper
Type: Humanoid
Level: 20
Health: 294/294
Special I: Crimson Wave – Causes cursed-effect to all opponents, reducing their max. health by 3 every turn until only 1 health remains or the effect is remedied.
Special II: Assassination – Instantly knocks out the target. Used only if the target is cursed.
Drops: Wave Sword (WP:11, cursed-effect, suitable to knights and rogues)
Ad blocker interference detected!
Wikia is a free-to-use site that makes money from advertising. We have a modified experience for viewers using ad blockers

Wikia is not accessible if you've made further modifications. Remove the custom ad blocker rule(s) and the page will load as expected.