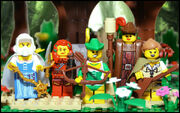 The Merry Women are a band of highwaywomen holding camp in Eubric Forest in Uland. The five women grew tired of their lives in poverty and monotony at Eubric Freeport and decided to become bandits so that they could help out the oppressed by stealing from the rich and giving to the poor. Of course, they consider themselves among the poor as well, but some of their gold trickles to the Hovels as well.
Ad blocker interference detected!
Wikia is a free-to-use site that makes money from advertising. We have a modified experience for viewers using ad blockers

Wikia is not accessible if you've made further modifications. Remove the custom ad blocker rule(s) and the page will load as expected.