Zaniah is a Star Elven guardian knight and fiancée of the scholar Syrma, who was tasked to research the ruined cities of Spesialia. After Syrma's death in a battle against a Crystal Titan, Zaniah swore revenge to the heroes of Heroica who she blamed for initiating the battle, but she dropped her vendetta when the heroes were exiled.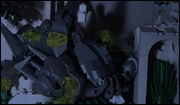 Appearances
Edit
Ad blocker interference detected!
Wikia is a free-to-use site that makes money from advertising. We have a modified experience for viewers using ad blockers

Wikia is not accessible if you've made further modifications. Remove the custom ad blocker rule(s) and the page will load as expected.